#57. Beginning with Series 1996, $100 Federal Reserve Notes feature large portraits, watermarks in the paper, and color-shifting ink.


Do Cottage Food Laws Affect You Selling Baked Goods for Extra Cash?
Learn how Cottage Food laws could affect your baked goods business this winter.
Homemade baked goods are a great way to spread the love and joy during the chilly winter months—and if you're the one doing the baking, it can be a great way to make some extra cash! If you've already picked out and perfected your recipes, decided how to sell your treats, and figured out how you'll keep track of expenses and profits, the final thing you should know about before selling baked goods is your state's Cottage Food laws.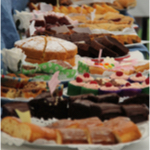 You probably already know that there are codes, regulations, licensing, and laws for safe food production when it comes to restaurants and food production facilities. These rules are in place to protect consumers—those buying and eating the food—from contracting foodborne diseases. That's a good thing, right? But if the government applied all of those rules on you, you'd probably never get your business off the ground, unless you already own a commercial kitchen and can pay for proper licensing!
Thankfully for entrepreneurs like you, there are Cottage Food laws (also called Home-Food Processing Rules or Baker's Bills), approved and overseen by the Department of Health or Department of Agriculture, depending on the state. These laws, which vary by state, are designed to give small-time bakers a way to share their yummy talents and make a little cash. Here are some basics on Cottage Food laws.
What types of foods qualify under the law?
Low-risk foods can be prepared and sold under Cottage Food laws. Low-risk foods are those least likely to contain and transmit foodborne illnesses and are primarily items baked at high temperatures (think cakes and breads). The characteristic that divides most low- and high-risk foods is the need for refrigeration: high-risk foods need refrigeration because they contain eggs, dairy, or meat in a state where they could easily spoil. This can include meringues and cheesecakes.
Other low-risk foods include dry cake and cookie mixes, dry nut mixes, granolas, popcorn, and canning acidic foods like jams, jellies, and salsas. Canning low-acidic foods—veggies and meats—is considered high-risk and are usually prohibited under Cottage Food laws.
Where can you sell your goods?
Most, although not all, states allow you to sell at farmers' markets, roadside stands, charity events, and bake sales as well as person-to-person among friends, family, and neighbors. Very few states allow cottage food bakers to sell their items to restaurants, grocery stores, or wholesalers. And while you're allowed to advertise and promote your goods on a website, you cannot sell your food online or across state lines.
Do you need to share nutritional information?
Check the law in your state, but you may be required to put some type of label on your baked goods. Necessary information can include weight or volume, your name and address, the words "this item is home produced," and all ingredients in order by weight.
How much can you make?
Many states restrict the amount of money per year you can make operating under its Cottage Food law. The amounts range from $5,000, to $50,000 per year. Be sure to check your state and local tax codes, because you may need to collect and report sales tax as well.
What's required?
What's required to legally operate under a Cottage Food law is different in each state, but you may need to do the following things (or none of them, so be sure to check!):
Meet local zoning ordinances

Pass a form of kitchen inspection

Only produce food goods from your primary residence kitchen

Obtain a business license or register a DBA (doing business as)

Ensure pets are not allowed in the home or kitchen