#85. In 2005, Utah, Minnesota, Montana, New Hampshire and Alaska had the highest proportions of people 25 years and older with a high school diploma or higher (around 92 percent).


Volunteer This Holiday Season—Safely and from Home
Do good.
Volunteering is often seen as a thing you go and do. But, welcome to 2020, going and doing something is difficult, at best. Luckily, volunteering isn't always going to the local food pantry to pass out food baskets or cleaning up a park. Whether you need service hours for school or you want to help your community, here are some options you have to volunteer.
Virtual volunteering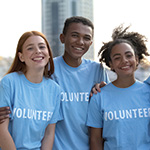 Communication is key to helping. There are a lot of communications-driven volunteer opportunities you can do from home. Some are directly reaching out to people or being there to listen. Others involve making information easier for people to access. It all depends on what you want to do and your talents
United Nations – The UN has remote volunteering options that include writing, editing, translating, research, and advocacy, just to name a few. You can find a whole list at onlinevolunteering.org to see what is out there that might fit your talents.

Red Cross – Not everyone who needs help always knows where to find it. The Red Cross uses volunteers to help monitor social media during disasters to find people in need and direct them to the proper resources. If you're going to be on social media, you might as well get in some volunteer hours at the same time.

Smithsonian Institute – If you have an interest in history, the Smithsonian Institute has the perfect fit. You can spend time transcribing historical documents or helping update resources like Wikipedia.

Crisis hotlines – This opportunity is limited to people over 18, but training is provided. During the holiday season, crisis hotlines need all the help they can get.
Politics
Even though election season just ended, the next one is already starting. Phonebanking is crucial to getting information out to voters. You don't need to back a candidate or even a party. Look for local causes that are going to be on ballots and back them. Contact the people who are trying to support them and find out what you can do to help.
Food drive
Donate to a local food pantry. Or set up a location where people can drop off donations and then you can deliver it to a non-profit. Food pantries are set up to take your donations without you having to have direct contact with anyone. Let them know what you want to do and go from there. Most can offer assistance on how to run your drive and the best way to collect items.
Read
Reading for the blind has always been a socially distanced activity. Volunteers read aloud and record news, magazines, and other materials where it's cost-prohibitive to print in braille. You do something good for those in need and you also get to read new books and magazines. It's really a win for everyone involved.
Like everything this past year, volunteering is going to take creativity. And a little extra effort on your part to make it work. Stay focused on what's important: your wellbeing. If you don't feel comfortable with what's required, don't volunteer there.
Volunteering is just as much about helping others as it is about learning about yourself and growing as an individual. Even if you're required to get volunteer hours for school, it doesn't mean you should jump at any opportunity that is out there. Find ones you actually enjoy and invest your time the same way you'd invest your money—wisely and in places that return growth.